The Best Free Online Waiver Services in 2023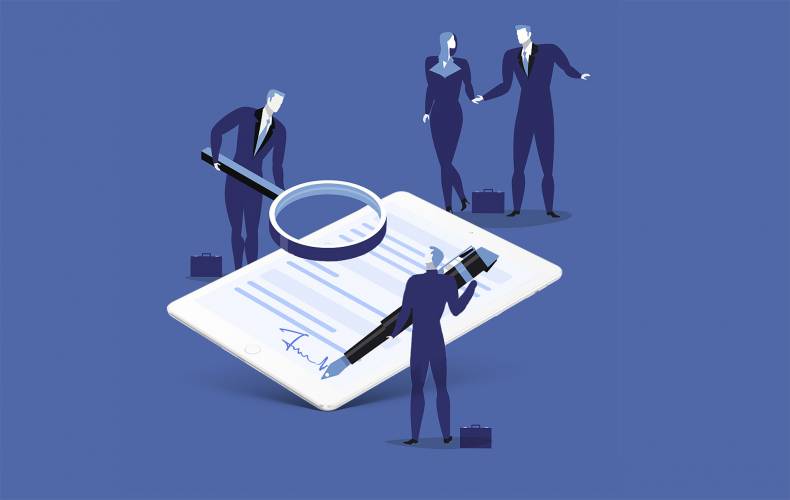 It's no secret that using a digital waiver signing solution can help you grow your business. It's also no secret that the best online waiver service is a free online waiver service. Practically every waiver solution on the market offers a free introductory trial, so you can try having forms, and liability waivers signed online before you buy.
The most significant difference with WaiverForever is that our free starter plan has no time limit attached. You can take your time exploring WaiverForever's many features and marketing tools without the pressure to start paying.
That aside, it's worth looking at the free online waiver signing plans offered by other waiver software solutions so you can best decide where to spend your time and resources.
WaiverFile
Number of 4 and 5-star reviews: 31
WaiverFile offers a free 30-day trial that allows you to explore all the features of their platform.
Depending on your needs, WaiverFile may be right for your business. Their waiver platform allows you to create and have guests sign necessary waivers through a browser or waiver app.
They have a live check-in screen so staff members can quickly see who has signed in for a particular session.
They allow four third-party integrations to export contacts: Constant Contact, GetResponse, MailChimp, and Signpost. You can also generate simple monthly reports in a spreadsheet format.
Most of the user critiques in reviews are related to their lack of integration capabilities, a tricky waiver creation process, and a few login issues. However, for a no-frills solution, WaiverFile may be right for you.
Be cautious, however, if you sign up for a paid plan, as each signed waiver beyond the included amount costs you $0.50 USD.
WaiverSign
Number of 4 and 5-star reviews: 74
Though WaiverSign has a lot of praise for its customer service, its features are also reasonably minimal, at around the same price point as many of its competitors who offer more.
Signing up for a free trial requires going through a sales rep, so you'll need to hop on a call or do an email exchange to get started.
With WaiverSign, you get the following features:
Their support team will convert your PDF waiver into an online waiver
A custom form builder with the ability to add optional fields
Present the waiver release on a desktop or mobile device (browser only, whereas WaiverForever offers offline-signing through our free app)
Use in kiosk mode
E-mail waivers to online booking participants in advance
Store signed waiver releases and contact information in a content management system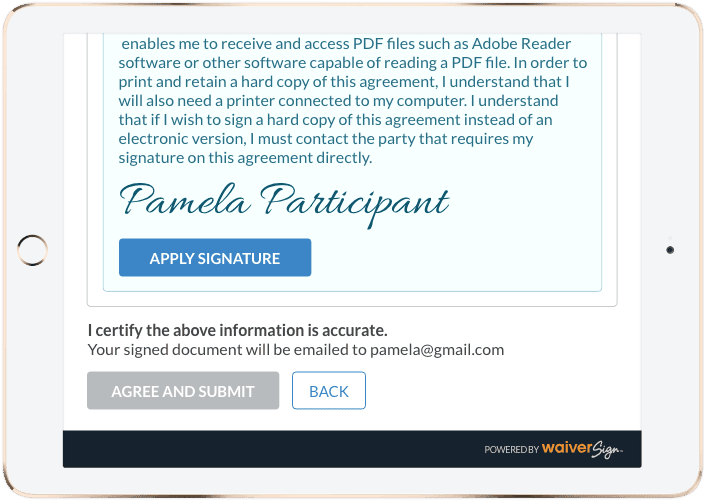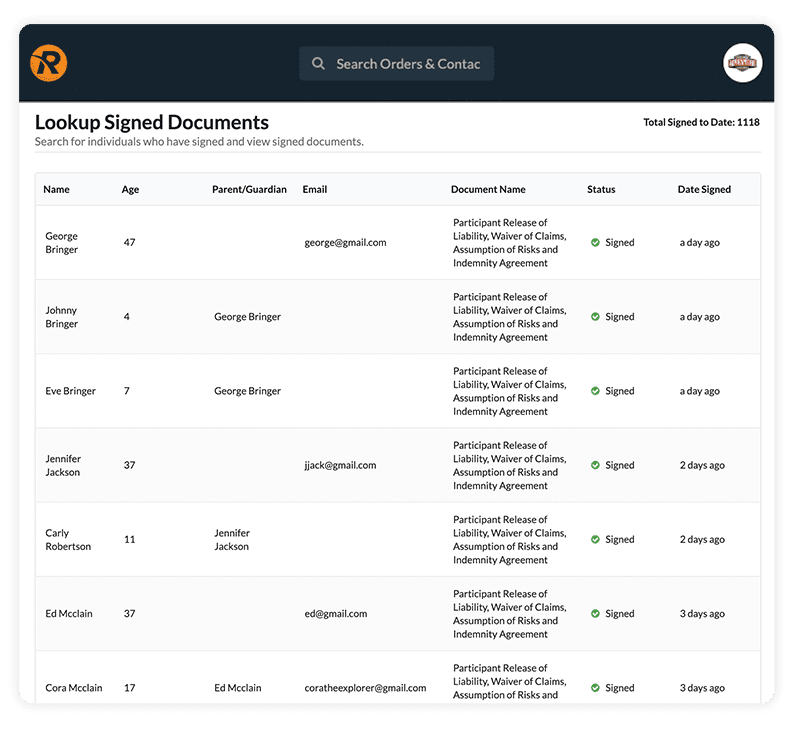 Like WaiverFile, one of the major critiques of WaiverSign is its lack of comprehensive third-party integrations. Some customers also complain that they have limited capabilities of editing certain aspects of their forms or profile info on their own. Their customer service is praised, however, for how quickly they get back to customers.
Their lack of a phone and kiosk app also means that you will always need to have an active internet connection to serve clients' electronic waivers. Your flexibility with the signing process is limited if your connection drops or is nonexistent, such as if you're a photographer who wants to get a model release form signed or a tour operator in the bush.
As for pricing, you pay a flat rate of $10 USD per month and $0.10 per every signed waiver up to 50,000 waivers.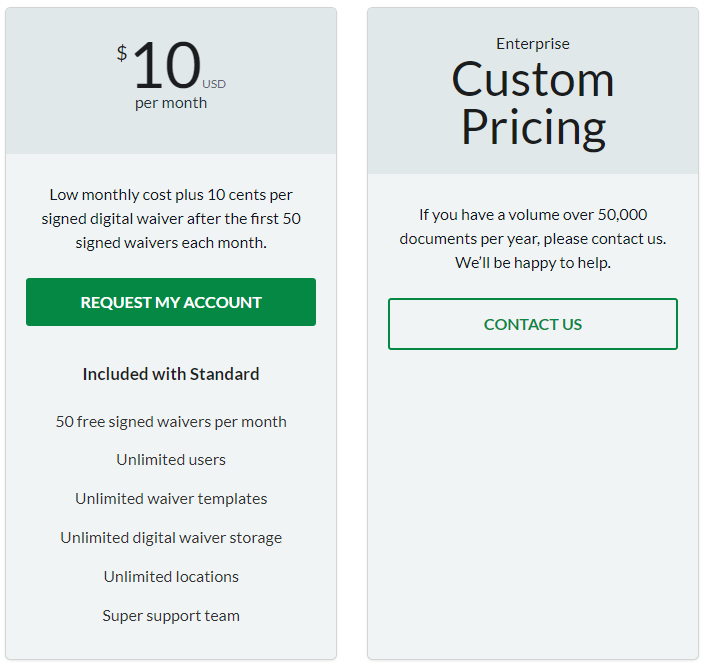 Their lack of additional pricing plans before you reach 50,000 waivers means that you'll be shelling out a lot of dough if you need to have a lot of waivers signed each month:
| | |
| --- | --- |
| Amount of waivers used. | Total monthly cost |
| 600 waivers | $70 USD |
| 1,000 waivers | $110 USD |
| 2,000 waivers | $210 USD |
On the other hand, WaiverForever features a variety of smart usage plans. After you try our unlimited free plan (outlined below), you can drastically cut down the cost when you require many waivers signed.
Smartwaiver
Number of 4 and 5-star reviews: 19
Smartwaiver's free trial gives you 30-days to explore all of their features. During this time, they even let you capture as many signed waivers as you want.
However, Smartwaiver only allows you to convert existing paper documents, and the Smartwaiver support team must convert them for you. This level of integration removes some of the flexibility of what is otherwise a very robust solution.
Smartwaiver has many of the same features as WaiverForever, including:
The ability to customize waivers with branded images and colors
Email waivers to guests to sign digitally ahead of time
A waiver app that allows guests to sign when offline and captures guest photos
Set up a waiver app in kiosk mode
Secure online, unlimited storage in the cloud
The option to add additional survey questions as text input, dropdown, or multiple choice
Integrations with third-party CRM and email marketing systems
Manual and automatic data exports and waiver backups
Of course, 30-days goes by in the blink of an eye, and you quickly realize why they are so generous with how many signed waivers they allow during the trial.
Smartwaiver's most basic plans that let you capture 100-300 signed release of liability waivers per month are relatively cost-effective. However, the tier plans for 600-5,000+ signed waivers per month will drain your wallet faster than you can say "free trial."
These costs can be crippling for small and midsized businesses, particularly if you need more than 1,000 waivers but less than 5,000.
By comparison, WaiverForever's paid plans have a low monthly base cost and a smart usage cost. You only pay for the number of waivers you use.
Our popular Business plan for midsized companies starts at only $19.99 a month, plus the usage charge.
| | |
| --- | --- |
| Amount of waivers used. | Total monthly cost |
| 600 waivers | $68.99 USD |
| 1,000 waivers | $100.99 USD |
| 2,000 waivers | $164.99 USD |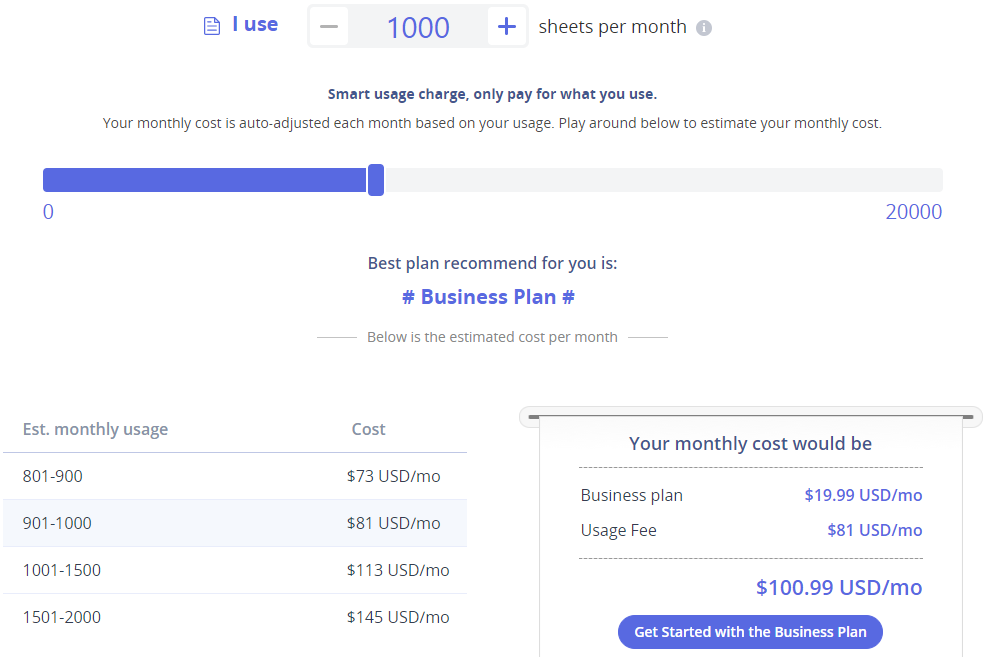 The savings are apparent for smaller businesses. And for all of the added expense, they lack some powerful marketing tools that WaiverForever includes for all their users.
WaiverForever
Number of 4 and 5-star reviews: 76
We've helped hundreds of businesses streamline their operations, and they have had lots of great things to say about us.
Up to 20 signed waivers per month
Use of our free waiver form app with one offline device
One stored waiver template
Analytics for the last seven days
One third-party integration
Use of our online PDF form builder
As previously mentioned, you can use our free plan for as long as you like – if you never need more than 20 waivers signed per month, you don't need to upgrade!
Even better, if you have any concerns at all after switching to a paid plan, we offer an unconditional 30-day money-back guarantee.
The real advantage of WaiverForever that you won't find with our competitors is in the form building and marketing tools we make available to our customers:
Drag-and-Drop Form Builder
Our waiver builder uses a hassle-free drag and drop system. To add fields, simply click the one you want from the lefthand menu and drag it into place. As you build, you can see what your waiver will look like with our live preview. Once you add a field, you can use arrow buttons to shift its location on the page.
All fields can be used multiple times and edited. For example, you can use various name fields below the primary signatory to sign in their children. All areas you add can either be mandatory or optional.
Fields are also validated and will prompt users to fix a mistake, such as an incorrectly formatted email. You can also add your logo and brand elements as well!
WaiverForever also allows you to add custom questions to your waiver to collect information about your customers. You can add these survey questions in a short answer text field or multiple-choice questions that allow for a single answer or multiple answers. You can then use our waiver analytics dashboard (featured below) to generate professional, color-coded reports that provide insight into your customers.
PDF Form Uploader
Are you looking for an online waiver solution that will let you easily use your existing branded paper waiver forms or PDFs?
WaiverForever's new PDF Form Builder means you can easily upload your polished forms for your waiver exports.
Users will fill out the form fields as with our standard platform. They then digitally sign with a mouse or their finger, and, voila – a PDF waiver is exported in your template! These PDFs are then stored for you in our secure cloud-based waiver management system along with the digital signature security certificate, with the option of automatically emailing the customer a copy as well.
Waiver Management System
WaiverList lets you easily view all of the waivers associated with your business. Using our various filters provides you with the power to keep yourself organized and quickly answer critical operational questions.
Each waiver is also associated with a customer profile, and clicking the waiver allows you to view that profile on the My Customers page.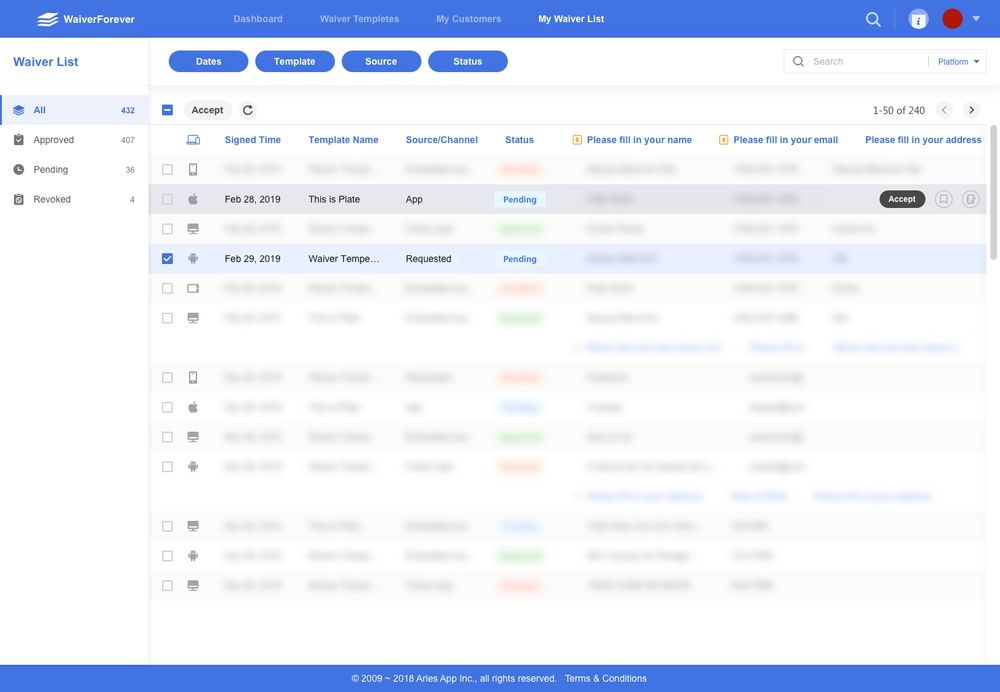 My Customers Dashboard
The "My Customers" dashboard provides the ability to quickly group, export, and contact customers who signed a waiver. You can group customers for easy reference or email and phone marketing campaigns.
You can also easily export contact information and click on a client to view every waiver they have signed at your business.
Learn more about My Customers dashboard.
Customer Analytics
With real-time analysis tools, WaiverForever helps you better understand your customers' behavior with interactive visual data. Our analytics dashboard provides you with a simple report to assist the business decision-making process. You can select data ranges and filter results, seek business insights from short survey questions and stay ahead of your competitors.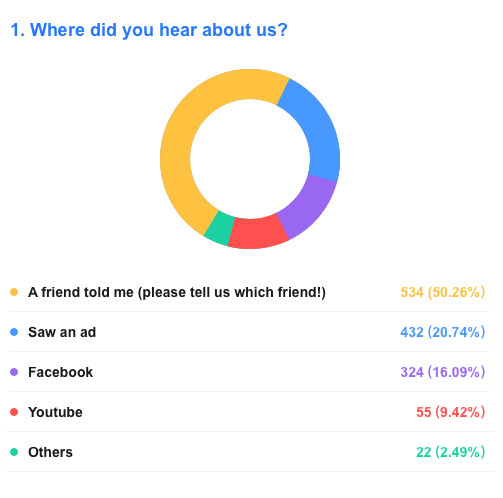 Give WaiverForever a Try Today
We hope this guide has convinced you to sign up for WaiverForever's free starter plan. Even if you try the other online waiver solutions as well, we're confident you'll quickly recognize the value of WaiverForever's robust suite of tools.
If you're ready to give us a try, sign up for your free online waiver account here!