What Is an Exculpatory Clause in a Liability Waiver?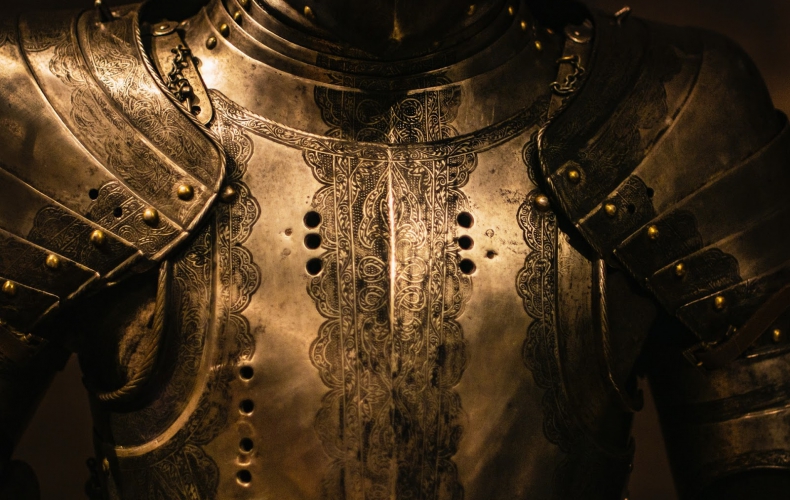 No waiver form is complete without an exculpatory clause – in fact, it's the core of release of liability.
Lots of businesses and events like yours require their clients to sign a liability waiver due to the inherent risk in an activity. In our litigious society, this legal document is a safeguard against legal action should a personal injury occur while the client is using your facility or services.
What is an exculpatory clause?
An exculpatory clause is a standard waiver clause that states that one party won't hold the other liable for damages, losses, or costs associated with incurred legal issues. These potential costs are typically the loss, damages, or additional legal fees that would arise from a lawsuit for liability waivers.
The exculpatory clause is an integral part of any liability waiver. For companies whose activities involve some level of danger or risk, it's understandable why this clause is necessary.
For example, an ATV rental business would have an exculpatory clause that protects the business from any responsibility or costs associated with the client becoming injured while using a rental ATV or participating in an ATV tour. This would include a list of every foreseeable type of injury and reason for injury including user error or equipment malfunction. By signing the waiver, the client agrees to hold your company harmless should any of these events occur.
Even if you aren't running an adventure business, these clauses are still crucial for companies that offer activities that aren't visibly risky.
Accidents happen all the time, and someone engaging in something as casual as a massage or participating in an escape room challenge can still be harmed. It's always better to be protected instead of leaving your business vulnerable to lawsuits.
Are exculpatory clauses always held up in court?
While having a release form is always recommended, it's important to note that it's not a bulletproof defense. A general release of liability form will only be held up in court in instances of ordinary negligence.
Negligence comes in two flavors: Ordinary Negligence and Gross Negligence.
Ordinary negligence is defined as "when a person or company fails to take reasonable measures to avoid causing financial harm or injury to others."
Waivers protect businesses every day and a liability waiver can act as a shield against many injury lawsuits related to ordinary negligence and inherent risk.
Where a well-written liability waiver can still fall short is if you are found guilty of gross negligence: a conscious and voluntary disregard of the need to use reasonable care, which is likely to cause foreseeable grave injury or harm to persons, property, or both.
As a service provider, you are legally required to exercise a reasonable standard of care when working with your clients. That involves proactively identifying and managing risks involved in your business. Failure to do so means that your waiver becomes a much weaker defense in court.
In order to ensure you are exercising your duty of care, it's important to minimize risks wherever possible.
It is also important to note that waiver laws vary among countries and states/provinces. Louisiana, Montana, and Virginia, for example, don't accept waivers as a defense in court at all. Some findings based on success rates of waivers in court suggest that some states have more stringent guidelines when it comes to when a waiver will be accepted, whereas others are far more lenient: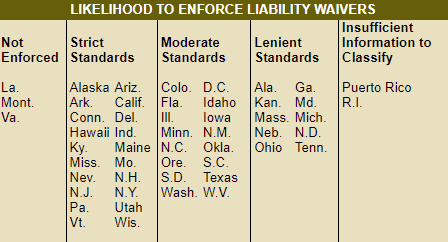 Regardless, writing a liability waiver is always recommended as it provides your clients a chance to fully review and understand the risks involved with an activity before they engage in it.
Exculpatory clause in a release of liability waiver examples
Here we include some samples of an exculpatory clause. However, if you are writing a waiver, we highly encourage you to consult with a lawyer to make sure the language is appropriate for your industry and legal jurisdictions.
Here are a couple of exculpatory clause samples from Law Insider:
Hold Harmless Clause For Injury or Loss
The signer expressly waives, releases, and discharges his or her right and the rights of his or her estate, heirs, administrators, executors, beneficiaries and assigns to sue or otherwise make a claim against the company, its officers, directors, trustees, managers, members, owners, agents and employees for any and all loss, liability or damage, specifically including any such loss, liability or damage which may be attributable in whole or in part to the active or passive negligence of the company, its officers, directors, trustees, managers, members, owners agents and employees.
Damages and Loss of Property Clause
The University is not liable for the loss of or damage to Resident's personal goods in the Premises, within University facilities, or on University grounds unless caused by gross negligence on the part of the University. The University's liability under this paragraph is subject to the provisions of the Colorado Governmental Immunity Act. Resident is encouraged to carry private insurance covering their personal possessions.
Use WaiverForever to streamline your operations and stay legally compliant
We built WaiverForever to make the waiver signing and storage process simple for businesses of all sizes. More than that, we knew early on that we wanted to make sure our service provided lots of additional tools and waiver templates to help companies to streamline their operations and grow without having to spend thousands of dollars on software.
Our free starter plan provides you with access to the waiver builder and waiver analytics mentioned above, as well as:
The My Customers dashboard: Lets you view and group customers and export their contact data and signed waivers instantly.
The WaiverList management dashboard: Lets you manage your saved waiver templates and view waivers by location, device signed on, and more with ease.
The Waiver Analytics dashboard: Lets you view statistics related to your waivers and create fully customizable reports with charts and graphs.
Learn more about the WaiverForever product here and get started today with your free trial.