Do My Festival, Concert, or Expo Attendees Need to Sign a COVID Waiver?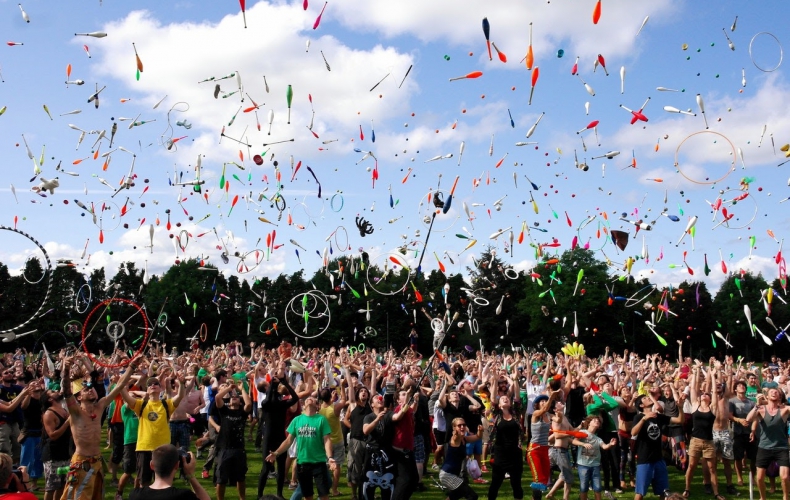 Even organizers rejoice – COVID lockdowns are winding down. Patrons are eager to see their favorite musicians, performers, and stars live in stadium tours and arenas across the country. Fans are eager to go to conventions to hang out with each other and see their favorite stars and creators.
While countries are already experimenting with the safe return to the packed concert hall, will expos, events, and venues need to protect their audiences and themselves, from legal damages, with a properly written event waiver? We explore.
Trump's Summer 2020 Rally Set a Precedent
When Donald Trump held a rally in Tulsa, Oklahoma in the Summer of 2020, his team had all attendees sign a COVID waiver, despite his constant downplaying of the virus. Per a report by CBS News, the specific clause read:
"By clicking register below, you are acknowledging that an inherent risk of exposure to COVID-19 exists in any public place where people are present. By attending the Rally, you and any guests voluntarily assume all risks related to exposure to COVID-19 and agree not to hold Donald J. Trump for President, Inc.; BOK Center; ASM Global; or any of their affiliates, directors, officers, employees, agents, contractors, or volunteers liable for any illness or injury."
This simple clause, when the event liability waiver form is signed by an attendee, constitutes a legally binding contract between the event organizers and the attendee. However, it's still unclear in many jurisdictions whether or not it's legal to sue businesses if you contact COVID-19 on their premises – after all, how can you prove it?
There has been debate in both the US congress and senate on whether to provide legal protections against businesses against COVID-19 lawsuits. After all, how can businesses safely reopen if there is a threat of a lawsuit?
Though this is still an open question, it makes sense that when you're gathering folks together in close proximity, even potentially with restrictions in place to help reduce the spread of COVID, to have people sign a liability waiver venue. If nothing else, it can act as a deterrent from lawsuits and ensures that attendees are fully considering the risks of attending your event.
How to Write an Event Waiver for COVID-19
Your COVID-19 liability waiver (also known as a hold harmless agreement or liability release form) is a legal document in which your attendees agree that they understand the risk that they could contract COVID-19 at your event.
This waiver also needs to be coupled with your duty of care – the various procedures you've implemented to protect your attendees as best as you can. Otherwise, your waiver won't have any teeth and you can be accused of COVID-19 negligence.
The CDC has compiled an entire guide to how to hold large gatherings safely and is continually updated as policies change. Some of these duty-of-care provisions for events include:
Physical (Social) Distancing
Adjust the size of an event based on the ability of attendees from different households to stay 6 feet (2 arm lengths) apart.
Remind attendees upon arrival to stay at least 6 feet away from people who don't live with them.
Discourage attendees and staff from greeting others with physical contact (for example, handshakes). Include this reminder on signs about physical distancing.
Find additional information below about how to modify layouts and maintain healthy environments.
Masks
Require that staff and attendees wear well-fitting masks that fit completely over their nose and mouth. Make a plan beforehand for how compliance will be monitored and ensured.
Encourage attendees ahead of the event to bring and use masks at the event. Consider having masks on hand to provide to staff and attendees who do not bring their own.
Hand Hygiene and Respiratory Etiquette
Require staff and attendees to wash their hands frequently (for example, before, during, and after taking tickets, or after touching garbage) with soap and water for at least 20 seconds and increase monitoring to ensure adherence.
If soap and water are not readily available, staff and attendees can use hand sanitizer that contains at least 60% alcohol and rub their hands until dry.
Encourage guests to avoid singing or shouting, especially indoors. If possible, keep music levels down so people don't have to shout or speak loudly to be heard.
Signs and Messages
Post signs in highly visible locations (for example, at entrances, in restrooms) that promote everyday protective measures and describe how to stop the spread of germs by properly wearing a mask, physical distancing, and washing hands.
Broadcast regular announcements on reducing the spread of COVID-19 on public address systems.
Include messages (for example, videos) about behaviors that prevent the spread of COVID-19 when communicating with staff, vendors, and attendees (such as on the invitation, on the event website, and through event social media accounts).
Consider developing signs and messages in multiple languages and formats (for example, large print, braille, American Sign Language) for people who have limited vision or are blind or people who are deaf or hard of hearing.
Limited, Staggered, or Rotated Shifts and Attendance Times
Consider ways to significantly reduce the number of attendees.
Establish policies and practices for the physical distancing of 6 feet between staff and attendees.
Stagger attendance times or offer expanded hours of operation with limited attendance at a given time to minimize the number of attendees at the venue.
Laws surrounding waivers vary across states and countries around the globe, so if you plan to utilize a COVID-19 waiver, it must be professionally crafted specifically for your business by a lawyer. They will be able to word the release in such a way that is legally defensible for state law and make sure it includes all relevant features:
Easy to read and understand
Includes the legal names of the event organizer business entities and personal information of the attendee
Includes a signature or digital signature with a signing date for both parties
Lists the location of the event
The date the agreement starts and end
Confirms possible risks, dangers, injuries, and losses that could happen by attending the event
Attendee agrees to release and discharge the event organizer for any liability if they catch COVID-19 as a result of attending the event
Other terms and conditions, including normal waiver verbiage including but not limited to an indemnification clause and an exculpatory clause related to personal injury or property damage as a result of attending the event
Here are a couple of examples of event COVID-19 release of liability waivers from the web to help you get started:
Once you have your waivers drawn up, you need a solution to get them signed in a safe way while also doubling as event check-in. If you're looking for a premier solution to streamline event check-in and allow guests to sign off on agreements quickly – look no further than WaiverForever.
Try WaiverForever For Waiver Signing and Event Check-in For Free
WaiverForever was created to help streamline the document signing and sign-in process. Our user interface has been designed from the ground up to eliminate check-in bottlenecks while also providing powerful features for event coordinators and business owners to keep track of their guests and market to them. Most important for COVID, you can have people sign waivers on their own devices prior to arriving, or by scanning a QR code on their own mobile device.
Whether you're running a major conference or trade show, adventure tour company, or sporting event – WaiverForever has you covered.
Our trial plan is completely free and never expires.
No credit card required!
Try us out today and you'll quickly see why we're the ideal sign-in solution. Not to mention that all paid plans have a 30-day money-back guarantee.