2019 Online Waiver Comparison (WaiverSign vs. WaiverForever)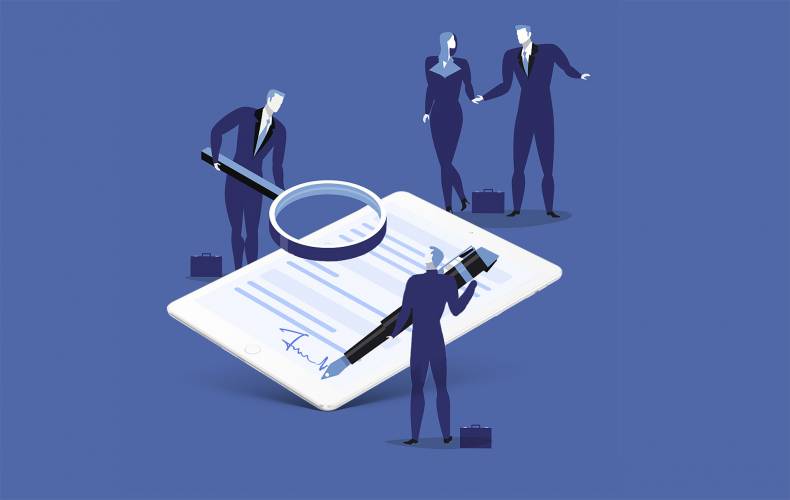 When it comes to comparing online waiver systems, it pays to do your homework.
WaiverSign and WaiverForever are two of the most popular waiver solutions on the market. While they have many similarities, they also differ in a lot of important ways.
Read on to learn what these two services have to offer.
1. Creating Online Waiver Forms
In WaiverSign, simply copy and paste the text of your waiver into the waiver builder, then use the field selector to choose what information you want to collect on your clients. WaiverSign also allows for customized fields to be added as checkboxes, dropdowns or text boxes.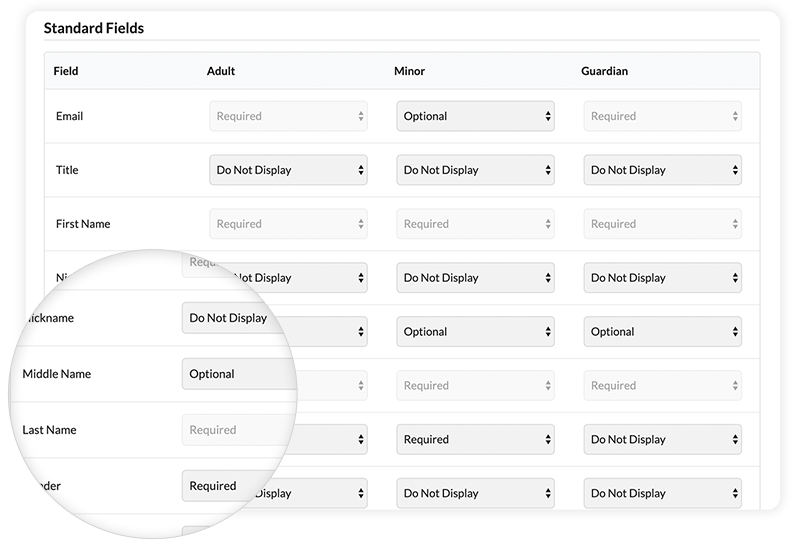 The first thing you'll notice about WaiverForever is that they provide many more customizable options when building waivers.
Rather than simply choose which fields you want to collect, WaiverForever uses an intuitive drag and drop interface that makes creating waivers a breeze. Simply grab the field you want from the menu (name, address, email, etc.) then move to where it needs to go.
Not only can you easily add data fields on the fly, but you get a design preview at the same time.
WaiverForever also allows you to add custom questions to your waiver to collect information about your customers. You can add these survey questions in a short answer, checkbox, dropdown or multiple-choice format. You can then compile reports based on the answers to these questions in the Waiver Analytics dashboard highlighted below to gain valuable customer insights.
2. Waiver Signing on Mobile Devices
Both WaiverSign and WaiverForever allow for the capture of waiver signatures on a mobile phone or tablet.
WaiverSign uses a web-based signing feature on mobile devices. As long as a device is signed in to the web, waivers can be presented to clients to sign on a mobile device. WaiverSign can also be configured as a sign-in kiosk for clients to access as they arrive at your business.
The biggest downside to this approach is that waivers can't be presented if there is no active internet connection. This can cause trouble if you have problems with your wi-fi network, or if you are, for example, a tour operator who wants to present waivers in the field.
To solve this problem, WaiverForever has created a dedicated app for both Apple and Android devices that allows for offline signing. This can also be set up as a waiver kiosk, and you can add your branding to the sign-in splash screen.
Signing in to the app with an active internet connection allows you to sync all of your waiver templates to your mobile device. After that, you can present waivers to clients even when you are offline. Signed waivers are uploaded to your secure online storage as soon as an active internet connection is restored.
Another great feature of the app is the ability to take photographs of a user when they sign a waiver for additional compliance. You can also scan a driver's license to automatically populate the fields in a waiver.
3. Waiver and Customer Management Features
One of the biggest benefits of using an online waiver signing solution is that it doubles as a client management platform. As your clients sign in, you'll have a running record of their contact information that you can use for marketing purposes.
WaiverSign provides you with a dashboard to view all your signed waivers. You can organize signed waivers by age, name or date, or use the search feature to find specific customers. WaiverSign also provides the ability to create an event and associate all signed waivers with that event. This makes finding and exporting waivers associated with specific events easy.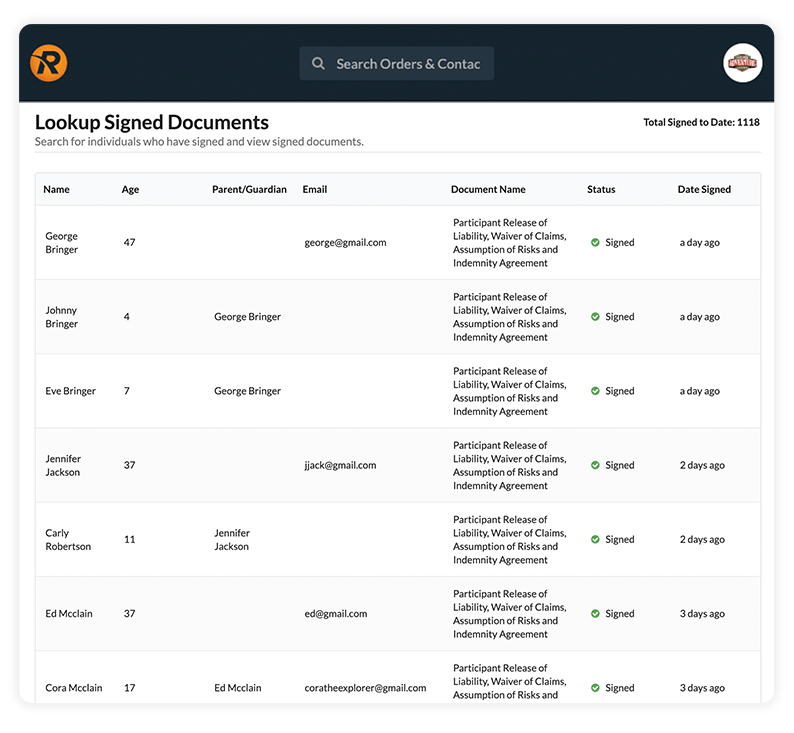 Clicking on a customer will provide a view of their contact information, as well as their signed waivers. You can add notes, and customer contact information can be exported from here as well.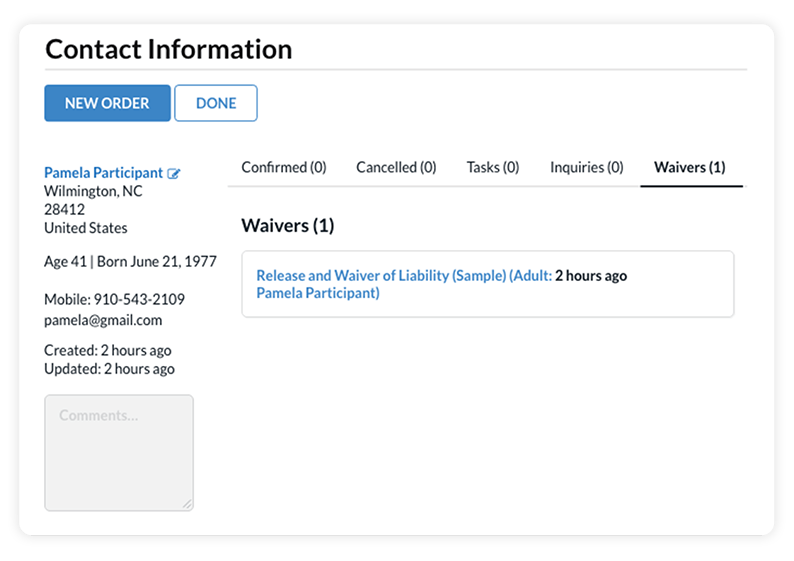 WaiverForever provides multiple dashboards to help you manage your clients and waivers with ease.
WaiverList is their waiver management system which lets you easily view all of the waivers associated with your business. Waivers can be sorted and filtered by:
Signed date
Template name
Device type used to sign
Geo-location
Signing status
Customer name
Any other custom field you added to your waiver.
You can also filter by any of these fields to quickly find relevant customers.
When sending waivers by email in advance of a group arrival, you can quickly view the approved, pending, or revoked status of a waiver. This lets you keep on top of those stragglers who still need to sign. Waivers can be starred so that they can be found again at a moment's notice. You can also add notes manually to any waiver for future reference, and tag waivers so you can design new filters for quick searches.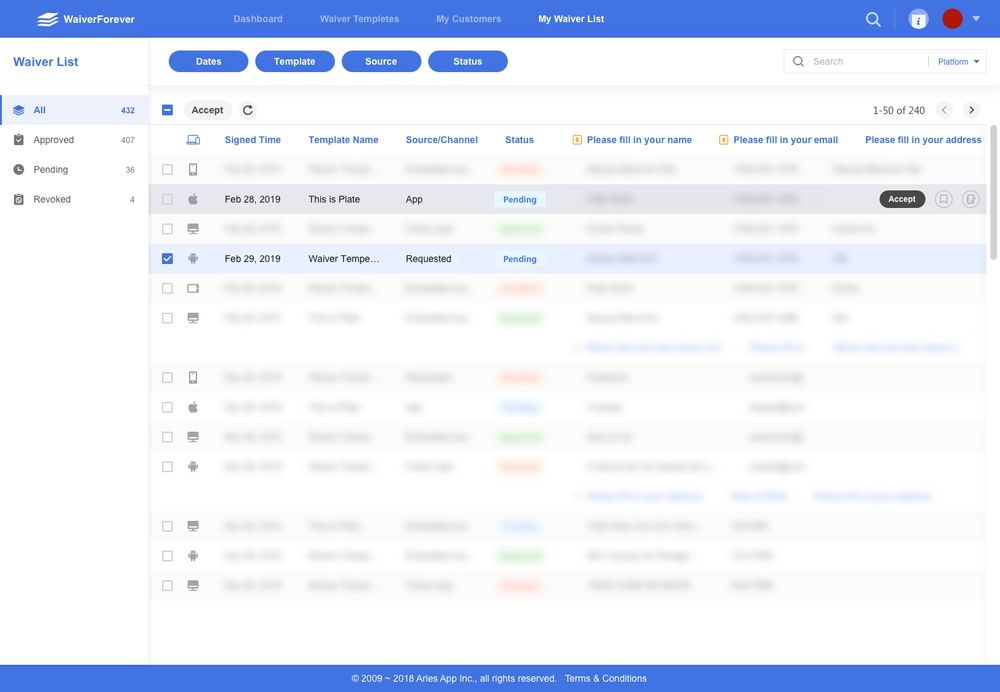 Each waiver is also associated with a customer profile, and clicking the waiver allows you to view that profile on the My Customers page.
The power of the My Customers page is the ability to quickly group, export and contact customers who signed a waiver. Customers can be grouped for easy reference, or for email and phone marketing campaigns. All contact information is easily exported. You can also click on a client to view every waiver they have signed at your business.
You can add clients to named groups that you can view separate from the entire list. You can also set up tags for customers associated with specific events or other custom parameters such as "frequent visitor." Both of these features make it easy to export contacts that meet certain criteria for marketing purposes.
Clicking on a contact will take you to their customer profile. Here you can find all the contact information submitted by contact, and a timeline of when they checked in or out using WaiverForever.
4. Reporting
WaiverSign provides a dashboard with customer insights from your waivers such as the number of waivers signed, participant ages, and gender.
WaiverForever's waiver analytics dashboard allows you to build custom reports with color-coded graphs so it's easy to interpret your data. Along with being able to view the number of waivers signed in a day, week, month, or year, you can also set up charts and graphs to display demographic information or answers to the custom questions you add to your waivers.
WaiverForever also makes it very easy to export those visually-appealing reports for stakeholders as a PDF.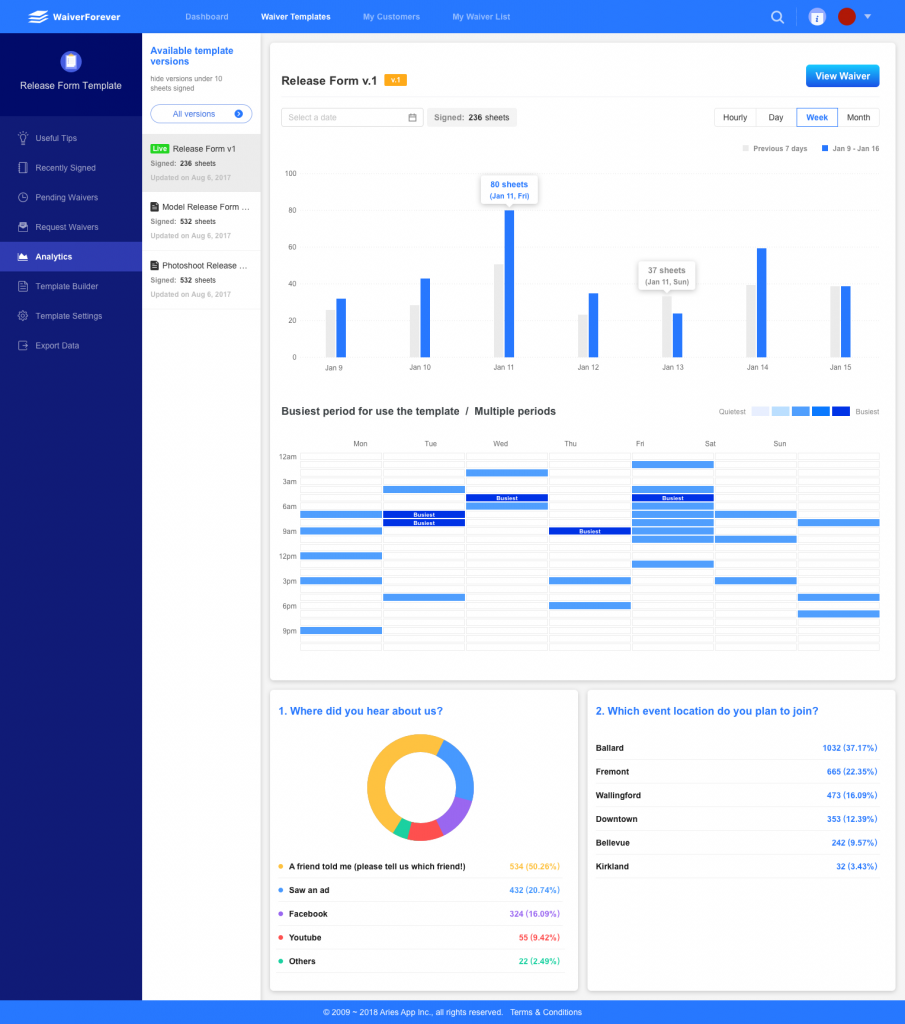 5. Integrations
WaiverSign provides direct integration with RESMARK online booking and reservation software. This allows you to easily view an up-to-date list of who in a group has completed their waiver. To use contact information with any other service, you need to manually export the contacts and import them to the tool of your choice.
WaiverForever provides several integration options so you can automatically export any new contacts to hundreds of different software services:
E-mail services: WaiverForever provides direct integration with Constant Contact and MailChimp.
Zapier: WaiverForever can export your contacts to Zapier, which in turn is able to connect to thousands of other services such as Google Sheets, Airtable, Twilio, HubSpot CRM.
The number of integrations you can have active at any time depends on which WaiverForever price plan you choose.
Online Waiver Pricing
Finally, we come to what you really want to know – the pricing.
WaiverSign's pricing is very attractive: Only a $10 USD base price that includes the first 100 signed waivers, with each additional waiver priced at 10 cents each. You only pay for what you need, and all of their features are included.
This includes:
​Unlimited users
Unlimited waiver templates
Unlimited digital waiver storage
Unlimited locations
| | |
| --- | --- |
| Signed Waivers | Monthly Cost |
| 100 | $10 |
| 200 | $20 |
| 500 | $50 |
| 1000 | $100 |
| 5000 | $500 |
WaiverForever offers different plan types for different size businesses. Changing your plan type during the month is no-hassle should your needs change, and their pricing model uses a smart usage charge that reduces the costs of signed waivers as your volume increases.
For those whose waiver needs are modest, their personal plan is comparable in price to WaiverSign's. Their plans also give you access to the powerful features highlighted above that WaiverSign does not provide:
Waiver app with kiosk and photo capabilities as well as offline-signing
WaiverList waiver management dashboard
My Customers dashboard
Customizable waiver analytics reports
Integrations with services allowing for automatic contact exports
Our most popular plan is our Business Plan, which is well suited for small-to-medium businesses.
Business Plan Pricing:
| | |
| --- | --- |
| Signed Waivers | Monthly Cost |
| 100 | $24.99 |
| 200 | $34.99 |
| 500 | $60.99 |
| 1000 | $100.99 |
| 5000 | $356.99 |
You will notice that as your amount of signed waivers reaches more than 1000, you end up paying less than WaiverSign, and have the added value of WaiverForever-exclusive features.
However, for those customers who routinely need a very high volume of waivers signed, our Enterprise plan provides a smarter pricing model with 15% off the standard usage charge:
Enterprise Plan Pricing:
| | |
| --- | --- |
| Signed Waivers | Monthly Cost |
| 1000 | $137.99 |
| 2000 | $192.99 |
| 5000 | $355.99 |
| 10000 | $567.99 |
You can always switch your plan level during the month should your volume increase unexpectedly.
Conclusion
If you are a personal user and or a very small business, WaiverSign provides a no-frills waiver signing solution that may be right for you. Their pricing for low amounts of waivers is modest for the up-and-coming business, which makes for a great starting point. However, WaiverSign is also thin in features designed to help learn about your customers and scale your business.
WaiverForever, on the other hand, is constantly growing with new tools to help business owners learn more about their customers and expand. While you pay a little more for only using a small number of waivers, the added value of our waiver and customer dashboard, waiver app, customizable analytics reports is key to scaling up. Once the number of waivers you need to be signed gets into the thousands, WaiverForever also provides a better price point.
In the end, online waivers are a critical part of securing and growing your business. Take your time when shopping to ensure you choose the one that best suits your needs and allows for further growth.
Otherwise, you could find yourself starting back at square one.
Interested in learning more about the benefits of WaiverForever?
Be sure to also read our previous online waiver comparison post: Smartwaiver vs. Waiver Master vs. Waiverfile vs. WaiverForever.