Do You Need a Pool Liability Waiver For COVID-19?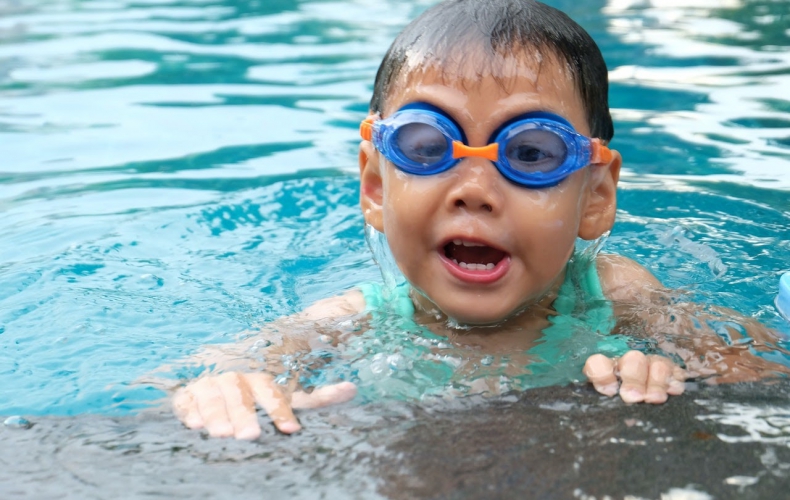 As summer approaches and people are looking for fun activities, all pool and hot tub owners and related businesses need to know – should you be having your patrons sign a swimming pool COVID-19 waiver?
The pandemic has been hard on everyone, and as COVID-19 vaccines are starting to roll out, people will want to go for a swim or soak.
After all, who doesn't enjoy a cold pool on a hot summer day? Or, how about relaxing in a hot tub after a massage?
Everyone's pent-up desire to go out and do normal activities means you're likely to have a lot of demand this summer.
Despite this, the pandemic won't end so quickly, and you must take safety precautions for your patrons and safeguard your business against potential COVID lawsuits.
We've compiled the latest resources on what businesses like hotels, fitness centers, waterparks, and community centers with pools and hot tubs may need a pool liability waiver form. We also provide a guide to private home swimming pools and apartment pools.
What the CDC says about swimming safety during the pandemic
The CDC has laid out COVID-19 Guidance for Public Pools, Hot Tubs, and Water Playgrounds in which they state: "The CDC is not aware of any scientific reports of the virus that causes COVID-19 spreading to people through the water in pools, hot tubs, water playgrounds, or other treated aquatic venues."
Although COVID can not spread through water, there is still the need to maintain appropriate distancing between swimmers, particularly in indoor pool settings. You also need to read up on your state's and city's local guidelines, which will have their own rules and policies.
If you can reopen your facility, it makes sense to mitigate risk in your facility so all patrons feel safe.
Some of the CDC's safety guideline suggestions include:
Staff and partons must stay home or isolate themselves when they feel ill or have a confirmed case of COVID.
Encourage social distancing—staff and patrons should remain at least 6 feet (a few inches longer than a typical pool noodle, both in and out of the water) away from people who don't live in the same household. Exceptions to social distancing should be made to:

Rescue a distressed swimmer, perform cardiopulmonary resuscitation (CPR), or provide first aid; or
Evacuate the water or aquatic facility (such as at gyms) due to an emergency.

Stagger use of shared spaces (such as limiting the number of people in the water, bathrooms, locker rooms, and breakrooms). For example, have patrons sign up, online or by phone, for swim or beach time slots.​
Assign separate entries and exits to encourage everyone to move in one direction, if possible.
Limit occupancy of enclosed spaces (such as bathrooms, locker rooms, and breakrooms) to make it easy for staff and patrons to stay at least 6 feet (a few inches longer than a typical pool noodle in and out of the water) away from people.
Educate staff and patrons about arriving "swim" ready (for example, showering before going to the aquatic facility). Enforce this and other healthy swimming steps.
Encourage the use of cloth masks among staff and patrons when on deck but not in the water. A wet cloth mask can make it difficult to breathe and likely will not work correctly.
Encourage handwashing with soap and water for at least 20 seconds. If soap and water are not readily available
Support steps that prevent the spread of the virus by providing accessible sinks and enough supplies for people to wash or sanitize their hands and cover their coughs and sneezes.
Post signs in prominent locations (such as at entrances and in bathrooms) to promote steps that prevent the spread of the virus (such as staying home, practicing social distancing, and properly wearing a cloth mask).
Increase ventilation, intake of outdoor air, and exhaust of indoor air to reduce the concentration of virus particles in indoor air.

Different approaches to achieve this can be taken. Implementing multiple strategies at the same time increases overall effectiveness. The building owner should consult a Heating, Ventilation, and Air Conditioning (HVAC) professional to determine which approaches to take.

Provide physical cues or guides. This can include lane lines in the water and tables or chairs on the deck to encourage everyone to stay at least 6 feet apart.
Ensure that lifeguards who are lifeguarding are not expected to monitor social distancing, use cloth masks, handwashing, etc. Assign these monitoring duties to staff that is not actively lifeguarding.
These guidelines are all helpful, and while they mitigate the risk of catching COVID, they're not foolproof. You may be worried that you'll be sued by your patrons if there is a confirmed COVID outbreak in your facility.
Businesses in some regions in the US and Canada have immunity against COVID-19 lawsuits, but some don't.
Even if you technically have immunity, having a COVID waiver signed is still a good practice. It reinforces your own commitment to safety and ensures your patrons understand the risks. It may also be a prerequisite to be insured during this tricky time.
Even if you're a private pool owner and planning a large pool party, it never hurts to have a private home swimming pool waiver for COVID in place. These waivers can make dealing with insurance companies a lot easier in the event of an injury or illness.
What needs to go in a COVID-19 liability waiver for pools
A COVID swimming pool liability waiver will essentially be phrased as a swim at your own risk waiver. It should outline all of the measures you are taking to keep them safe and have them agree to follow the safety guidelines outlined in your facility's COVID-19 safety plan.
In general, all liability waivers must include:
Exculpatory Clause: Removes liability from one party during the course of the contract and waives the right to sue for negligence related to COVID or any other personal injury.
Indemnity Clause: Transfers responsibility for liability due to loss or damage from the business to the person signing the contract.
Assumption of Risk Clause: This shows that the person signing the contract agrees to assume the risk inherent to the activity that they will participate in.
A COVID waiver should also include aspects you wouldn't find in another waiver:
Health Declaration: The signer declares that they and any minors they are signing for have not been diagnosed with COVID and, to the best of their knowledge, do not have COVID symptoms.
Declaration of Compliance: The signed declares that they have read your COVID safety policies and agree to adhere to those guidelines.
A waiver is a legal contract and needs to be given the same care you would provide any legal document to ensure that your waiver is enforceable.
Waiver laws and the wording required varies across countries, states, and provinces, and any vague language in your waiver creates loopholes that lawyers can exploit.
The above is why it is always recommended that you consult with a lawyer when drawing up your waiver forms. Their legal advice can ensure you don't miss any clauses that could hook you for a form of gross negligence.
Here are some templates that you can base your waiver off of:
The benefits of using an electronic waiver service
COVID-19 has upended all of our lives and added a whole layer of complication to even our fun and fitness. Let WaiverForever make your COVID-19 pool waiver signing easy and safe.
Businesses love WaiverForever for its ease of use and options for sending waivers to clients. Not to mention no more paper waivers to store.
Our waiver service works in browsers on both desktop and mobile, and our waiver app for both Android and Apple allows you to easily set up a waiver signing system in kiosk mode. Waivers are stored securely in the cloud, and our security protocols support legal digital signatures.
We encourage you to learn more about WaiverForever and start your unlimited free trial. It's time to streamline your processes during the pandemic, to enhance your business now and well into the future.