Skydiving Waivers – Save Your Business From a Legal Freefall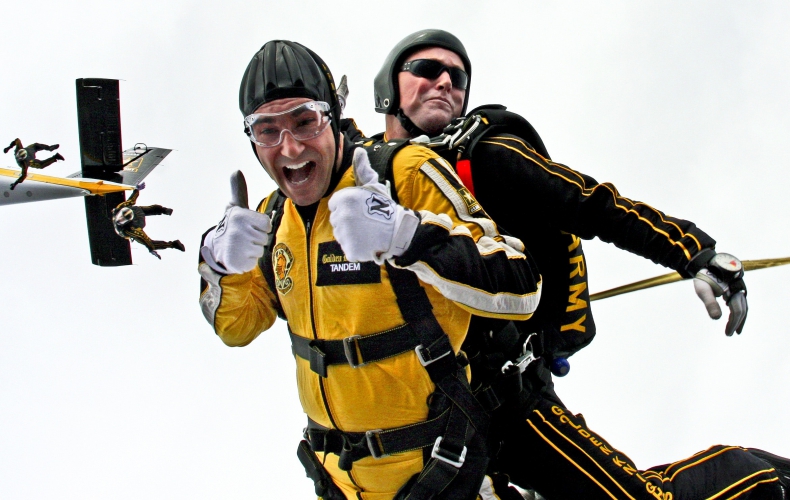 As the operator of a skydiving or freefall business, you should be used to making safety your number one concern. All your equipment must be working properly at all times, and staff must be trained to deal with any potential eventuality.
The only way to stay in business is for customers to know beyond the shadow of a doubt that you're committed to their safety. Otherwise, they wouldn't risk jumping out of a plane or off of a gigantic bridge under your care, and you would quickly go out of business.
It's important to take customer safety seriously, but have you ever thought about the safety of your business? The best way to protect your business from liability is through the waivers you offer customers. Your skydiving waiver should be customized to suit the needs of your business, but also must contain several basic clauses that offer protection in the event of a lawsuit.
Be sure to learn from the several recent examples of what can happen to businesses whose liability waivers are put to a legal challenge so you can focus on offering the best possible skydiving or freefall experience to your customers.
Recent Skydiving Accidents and Lawsuits in the News
Skydiving has always been an activity that's attracted bold and adventurous people. While there have always been risks to skydiving, in recent years skydiving fatalities in the United States have been in decline, with just 1 fatality for every 253,669 jumps in 2018.
However, the sport still presents some danger. In recent years, there have been several notable accidents that have led to legal action being taken against the operator or facility.
In June of 2019, a skydiving plane crashed in Honolulu, Hawaii, killing all 11 people on board. The plane, which was more than 50 years old, had been involved in a frightening incident just three years earlier, stalling mid-air and forcing 14 skydivers to jump to safety. Within days of the crash, it was revealed that the skydiving operator, Oahu Parachute Center, did not have the necessary permits for skydiving.
In 2017, a court in Oklahoma City awarded 19-year-old Makenzie Wethington a $760,000 settlement after she was severely injured during a skydiving jump three years prior. Wethington signed a waiver before she jumped, but in court, her lawyer alleged that the owner of the skydiving facility breached the contract by "failing to properly train and equip her for the jump."
Examination of Liability and Negligence for Skydiving Businesses
Even with the best waiver in place, a court can easily pass judgment against a business if they were reckless or negligent in their duty of care to the customer. This means that through their neglect or ignorance, their actions caused harm.
Even if there is a liability waiver in place, if a lawyer for the plaintiff can prove that there was a wanton disregard for the customer's safety, a court will likely find a judgment against the skydiving operator.
Waivers are also a requirement on most insurance plans and can affect the quality of your coverage. Insurance companies will not want to offer coverage to companies whose poor waivers leave them with the potential for liability issues in the future. Even an indemnity clause in your skydiving waiver isn't a substitute for commercial liability insurance.
How to Write a Skydiving Waiver
Skydiving is safer than it's ever been before, but the skydiving risks should not be discounted. This means that businesses must be exceptionally careful when developing waivers for their customers, to ensure that they're enforceable in a court of law. There are a few necessary clauses to ensure a waiver is legally enforceable.
Assumption or Acknowledgement of Risk
In this clause, the participant acknowledges that they've been adequately briefed on the risks of this activity, and are making an informed decision to continue despite potential dangers.
Liability Release
By signing a liability release clause, the participant waives liability for all reasons that are stated within the clause. In some cases, businesses can ask participants to sign waivers that release their liability even in the event of negligence on the part of the business. This means that if the participant was injured and wished to bring a lawsuit, they would have to pursue a case of recklessness or intentional harm, instead of simple negligence.
Choosing the Right Waiver Service for Your Skydiving Business
The more you learn about the various legal concerns related to skydiving, the better you'll be able to protect your business from potentially disastrous lawsuits. A thorough and enforceable skydiving liability waiver is a great place to start.
You wouldn't try to make your own skydiving parachutes, so why should you struggle with this other critical aspect of your business alone? Let WaiverForever help! With our easy-to-use service, you can customize every aspect of your waiver, and once you've set it up, you can capture signatures almost anywhere.
Want to try it out today? Sign-up today for a 30-day risk-free trial.