Upload Your PDF Waiver to Sign in WaiverForever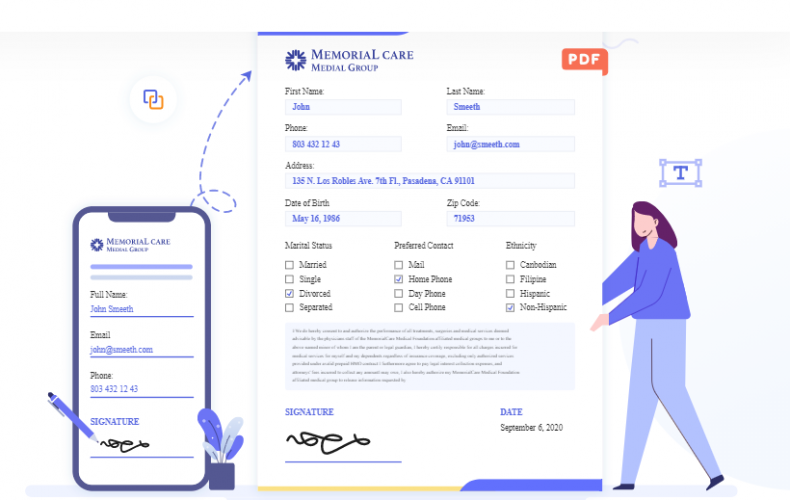 Looking for an online waiver solution that will let you easily use your existing branded paper waiver forms or PDFs? With WaiverForever's new PDF Form Builder you can easily upload your polished forms to be signed digitally on desktop, and also tailor them to display on screens of any size to use our waiver app and waiver kiosk signing solutions.
Our PDF Form Builder is just the latest of many features we've designed to help make you optimize your business and ensure you stay legally compliant.
Why start from scratch if you don't have to?
If you're looking to transition away from paper waivers, now's the time.
WaiverForever's new PDF Form Builder means you can easily upload your polished forms for your waiver exports.
Users will fill out the form fields as with our standard platform. They then digitally sign with a mouse or their finger, and, voila – a PDF waiver is exported in your template! These PDFs are then stored for you in our secure cloud-based waiver management system along with the digital signature security certificate, with the option of automatically emailing the customer a copy as well.
You'll also be able to benefit from the many features included with WaiverForever. For example, we support attaching pictures to waivers for an added layer of security.
Formatting for display on our waiver app
When you sign your waiver on devices, you can arrange the form fields into sections, so they still look great when signed on our waiver app or our waiver kiosk app.
Don't worry if your device isn't near an internet connection. You can still sign waiver documents when your internet connection is offline!
Grow your business with leading analytics and client management tools
WaiverForever is not just a waiver signing platform – our complimentary waiver software tools are designed to help you grow your business.
WaiverList lets you easily view all of the waiver templates and completed waivers associated with your business. Using our various filters provides you with the power to keep yourself organized and quickly answer important operational questions.
Also, each waiver is associated with a customer profile, and clicking the waiver allows you to view that profile on our CRM and the My Customers page.
If you need to build a new release of liability forms from scratch, our Waiver Form Builder gives you powerful customization options that allow you to make your waiver just the way you like it. You can then view important analytics related to your business and questions asked in your waivers on our Waiver Analytics Dashboard.
All of these additional features are included in every WaiverForever plan.
Try our Waiver PDF Builder today
Feel like WaiverForever's PDF Builder is the right solution for your business, but aren't ready to commit? Try us for free!
Our free starter plan provides an easy entry point to all of our waiver systems. If you then sign up for a paid plan and aren't fully satisfied, we offer a 30-day money-back guarantee.
Try us today and see why we are the highest-ranking waiver solution on GetApp.