Why You Should be Using Electronic Signatures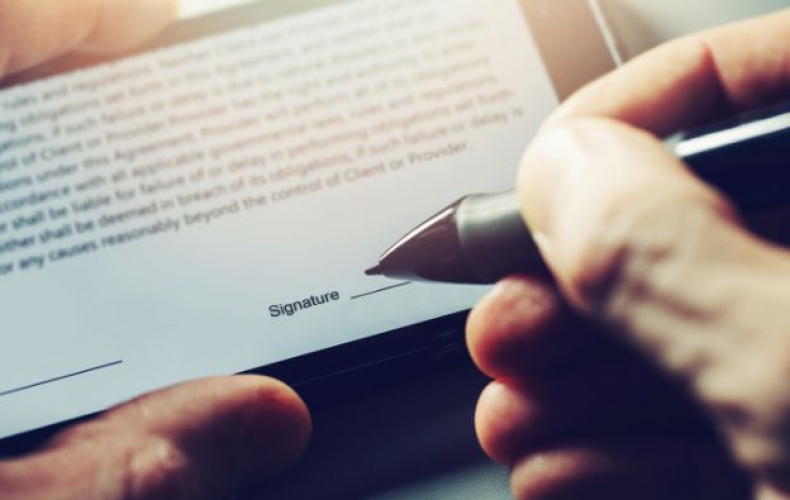 So many things about our lives have changed in the last two years. The COVID-19 pandemic facilitated a massive shift in how we work. Many workplaces shifted to hybrid or remote work models to accommodate staff. Another change was a significant rise in our collective preference for electronic signatures on documentation.
While electronic signatures have been recognized as valid in the United States since 2000 and Europe since 1999, the pandemic spurred a considerable shift in the number of businesses using eSignatures instead of "wet ink" signatures, which require a handwritten mark on a hard copy document.
From banking to home insurance to the auto industry and everything in between, many businesses are actively making the switch to electronic signatures. This includes many companies that use waiver forms for staff and customers.
If your business still uses paper waiver forms and requires people to sign by hand, the time has come to make a switch. We'll explain the basics of electronic signatures, how to make these eSignatures legal, and why your business should consider making the switch.
What's an electronic signature?
Let's start with the basics. What is an electronic signature?
According to the text of the E-Sign Act, a U.S. Federal law that governs the implementation and legality of eSignatures in the United States, an electronic signature "means an electronic sound, symbol, or process, attached to or logically associated with a contract or other record and executed or adopted by a person with the intent to sign the record."
Put simply, an eSignature is any method that an individual uses to sign a digital contract. In some cases, the individual will create their signature using their finger or a stylus on a touchpad, making a mark that looks similar to their handwritten wet ink signature.
In other cases, the individual may simply be asked to type their name or tick a box acknowledging their consent. All of these marks can legally be considered electronic signatures.
How do you make an electronic signature legal?
Depending on where you do business, you should familiarize yourself with local and federal legislation regarding electronic signatures. In the United States and Canada, there are both federal and state or provincial laws businesses must follow to ensure the signatures they collect are considered legally binding.
Even though different laws govern eSignatures depending on where you live, there are many common factors that must be present to ensure a legally binding electronic signature.
1. The signer must have the intent to sign.
2. The signer must also sign a clause implying or expressing consent to sign that document electronically.
3. The signature must be fully traceable to ensure signature attribution.
4. The signature must be securely attached to the document, not stored separately.
5. A copy of the document must be delivered to the signer.
6. The company must retain records of all signed documents so they can be reproduced if requested.
7. The signer should always have the option to opt out of signing digitally and be permitted to sign a hard copy instead.
Why your business should be using eSignatures
There are many reasons to make the switch from hard copy waiver forms to online waivers with electronic signatures.
Lower your environmental impact
When you switch to eSignatures, you can move your waivers online. This cuts down on the amount of paper required to run your business, which can hugely improve your environmental impact.
Reduce costs
While setting up an online waiver signing process may require a bit of a budgetary spend, this option is much more cost-effective overall. Instead of printing out and storing hundreds, thousands, or even millions of waivers, you can store your signed waivers securely on your server or in the cloud.
Increased flexibility and efficiency
Opting for online waivers with electronic signatures over hard copies offers both staff and customers increased flexibility and efficiency. It can be incredibly frustrating for your staff to have to wrangle papers all day, especially if you regularly use waivers for large groups.
It's so much easier for your front-line staff to ensure liability waivers are signed if they can send them to participants or customers ahead of time. Then, the signer can read the documents on their own time and sign whenever they're ready. This speeds up long processing times for businesses like adventure parks, recreational organizations, or studios offering tattoos, spa services, massages, and more.
Improved user experience
Printing out, signing, and remembering to bring in multiple pieces of paper is a hassle. Being able to review a waiver on your own computer and sign it in your own time is a valuable service to offer clients or customers. This improved user experience can help attract and retain customers.
Reduce errors that could void your waivers
If a waiver is signed and filed, and then the file is lost, that could create a significant issue if the company can no longer produce a copy. Relying on electronic signatures allows companies to move their waivers online and even to the cloud, which can help reduce potential loss and make them easily searchable.
Create a secure digital trail
Paper documents are much harder to track unless there's a dedicated effort to ensure their timeline of ownership can be traced. When waivers can be e-signed online, it's much easier for companies to create a secure digital trail for all their documents. Most services that facilitate electronic signatures use technology that can show when something was signed, down to the second.
How WaiverForever can help
If you want to get started using electronic signatures on your waiver forms, you probably have some questions about getting started. Fortunately, we have lots of knowledge and experience that can help you.
At WaiverForever, our secure service helps organizations facilitate the online distribution, signature, and collection of their waivers. Customers or clients can sign at home, on any mobile device, or on a dedicated screen at your place of business. Our service makes it easy to request waivers directly from groups and get everything signed and squared away before the activity or event begins.
Then, all the waivers are stored in our secure server, complete with multiple off-site backups. It's theoretically impossible to lose a waiver in our storage, keeping your documents both safe and easily searchable. Want to explore our service and see whether it's right for your business? Join today for your free trial.